Australia's consumer regulator has warned citizens of a new fraudulent campaign that uses text messages via SMS and WhatsApp allegedly sent by health authorities that aim to track COVID-19 cases.
The situation is serious as victims are assured that positive cases have been detected in their neighborhood, making them prone to deception and blackmail. Subsequently, threat actors ask the user to click on a link that allegedly redirects to a map that contains vital information to prevent contagion.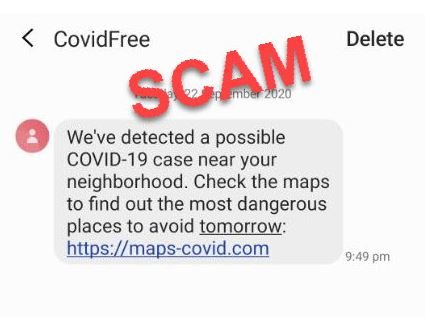 Through its social media, Scamwatch reported on the risk of fraud: "Beware of the latest phishing scam related to #COVID; if you receive this message, do not click on the link and delete it." Scamwatch is an entity run by the Australian Competition and Consumer Commission (ACCC).
In its message, Scamwatch also recommends contacting local authorities electronically. According to its most recent report, Scamwatch has received more than 4,000 reports of potential scams since the start of the pandemic, many of which are related to coronavirus, which remains a topic of global relevance.
Australian authorities say coronavirus-related scams have claimed thousands of casualties, generating about $3.5 million in losses for individuals and companies. Regarding attack methods, phishing remains the most widely used variant, mainly attracting retirees, housewives and adults unfamiliar with these fraudulent practices.  
"Sometimes threat actors pass on representatives of government agencies who provide information about COVID-19 infections, using links to malicious websites to extract sensitive information from victims, which in the worst cases could lead to bank or identity fraud," Scamwatch adds.
Under no circumstances should users interact with these messages, so it is recommended to heed the recommendations of the authorities to prevent these attacks.