The next version of Android, now officially named as Android 10, is right around the corner. Google's Android 10 beta program that allowed users to test the new Android update, before its wider release, has released the final beta version.
You can still install the Android 10 latest beta version if your device is listed in the Google Beta program.
Meanwhile, users have several questions for Android 10 such as: When will Google release the stable version of Android 10? Which dessert will Google pick for naming the upcoming Android version? When will my smartphone get Android 10 following its public release?
In this article, we will discuss all the major highlights of the new Android update, so let's begin.
Android 10 Name: What are we calling it?
Naming Android versions has always been a big deal for Google and Android enthusiasts. Google has been assigning desserts names to Android since it was first released 10 years ago.
In the process of naming Android every year, people speculate tons of dessert names but you can never know what Google picks. However, it's a little easy to narrow down the options since the company maintains it in alphabetical order.
For instance, the previous Android version is called Android Pie so the next version is bound to have a dessert name starting with alphabet Q. In fact, we have been making a list of the most popular dessert names that Google could pick for the next Android version. Here are some of them:
Android Quesito (ke-see-toe)
Android Quindim
Android Quiche
Android Qottab (Ghottab)
Quince (kwins)
Queen of Puddings
Quarabiya (Kurabiye)
Queijadas
That was the standard process, until now. In a surprise announcement, Google decided to scrap the tradition of naming Android versions after desserts. Starting this year, Android versions will only be called by their version number. Consequently, Android 10 will remain only Android 10 and nothing more.
The company backed up its decision with a number of arguments — language barriers being the number one. L and R are pronounced the same in some languages, so this can lead to confusion. So it's not immediately obvious for some people that Android Lollipop came after KitKat.
Moreover, some names of previous Android versions like Pie and Marshmallow aren't considered a dessert in several places and might not be popular as well.
Android 10 Release Date: When is it coming?
Like we mentioned at the beginning, Google Android beta program ended with the Android 10 Beta 6, released in August. The only step left for Google is to release the Android 10 worldwide.
If you look at the release dates since KitKat, Google has been pushing them ahead with every new Android version. Previously, we speculated the release date to lie somewhere in the first week of August. However, this is the third week of August, and we still haven't heard anything from Google.
According to the Android 10 release roadmap, the public release of Android 10 is scheduled for Q3 2019. We are speculating that the stable version of Android 10 will be released somewhere in September.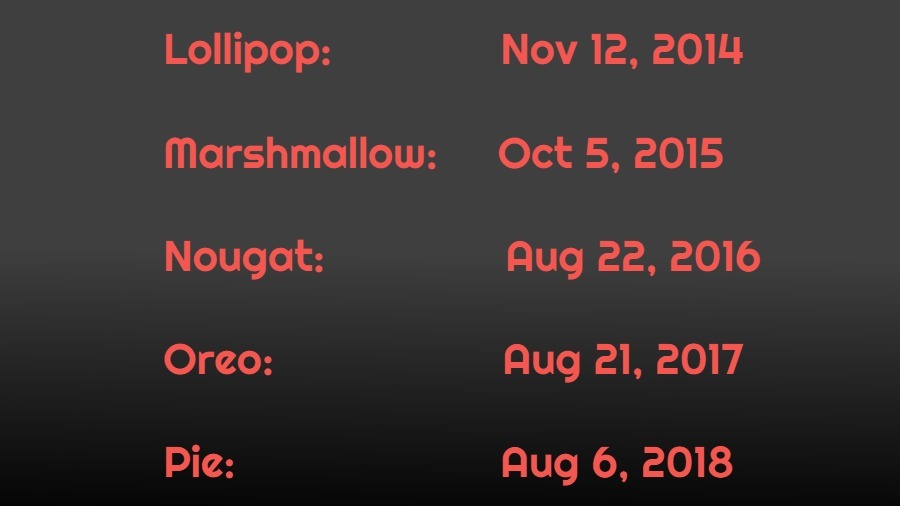 Will my phone get Android Q?
Another big question about Android 10 is which devices will receive it. Without a doubt, Google Pixel series would be the first one to receive Android 10. To know more, you can check out this list of devices that will receive Android 10.
Last year, many non-Google devices got Android Pie preview builds because of Project Treble in action. For now, we don't have concrete information on other smartphones, but this time we can expect even more non-Google Android phones to get Android 10.
For the time being, if you have Android One devices or your Android smartphone is listed in the Google Beta program, Android 10 will come on your doorstep sooner or later.
Top Android 10  Features: What to expect?
Here are the major features and changes on Android 10 that are worth waiting for.
Note: The features mentioned ahead are based on Android Q 10 Beta 1, 2 and a previously leaked build. Some of them might not make it to the final release and Google also might add a couple more to the list.
1. Dark Mode
A system-wide dark mode, one of the most anticipated feature is finally here. The new Android 10 feature enables users to apply a dark theme to the entire Android user-interface and supported apps.
In the new Android version, there are two methods to get the dark mode. You can either enable the "Dark Theme" option in the Android's display settings or you can turn on the battery saver which will automatically turn on the dark theme.
2. iPhone-like gestures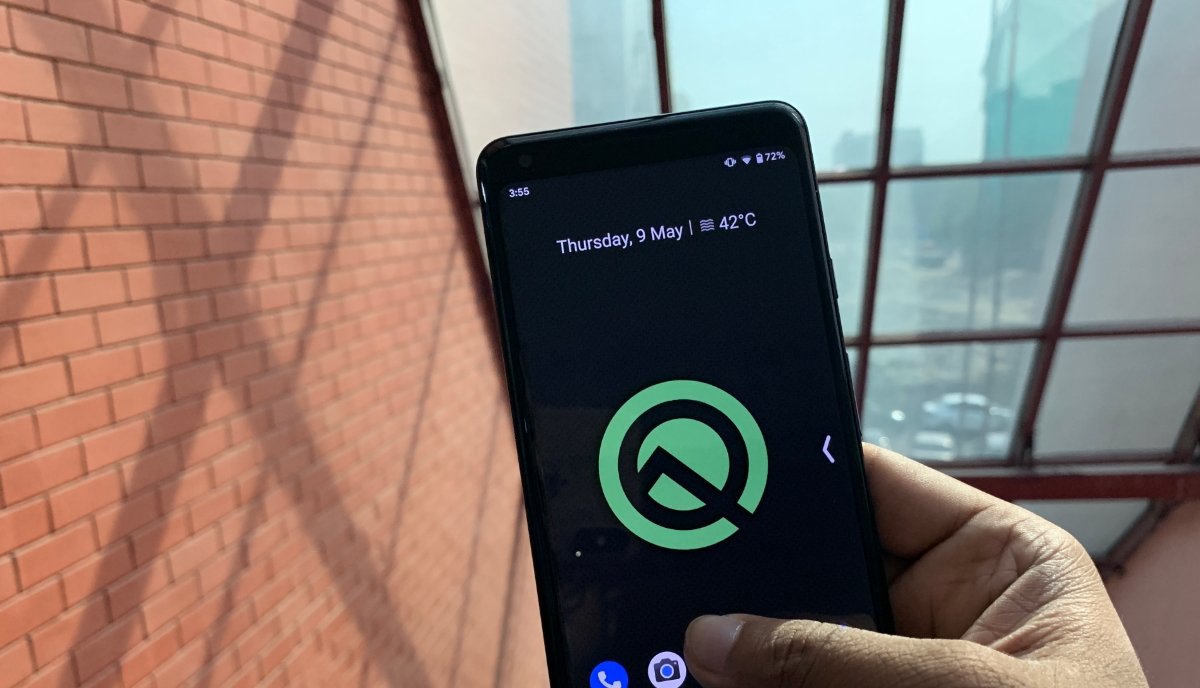 Google introduced us to the iPhone like gestures with Android Pie. However, many tech experts criticized the new feature for being "underdone" and not being as seamless as Gesture Navigation in iPhones.
With Android 10, Google has made improvements in gesture navigation, however, calling them "improvements" is debatable. Anyway, the iconic back button is gone. Swiping up returns home screen, swipe up and hold opens up multitasking and left/right swipe on the edge is the replacement for the back button.
3. Boosted Privacy and New Permissions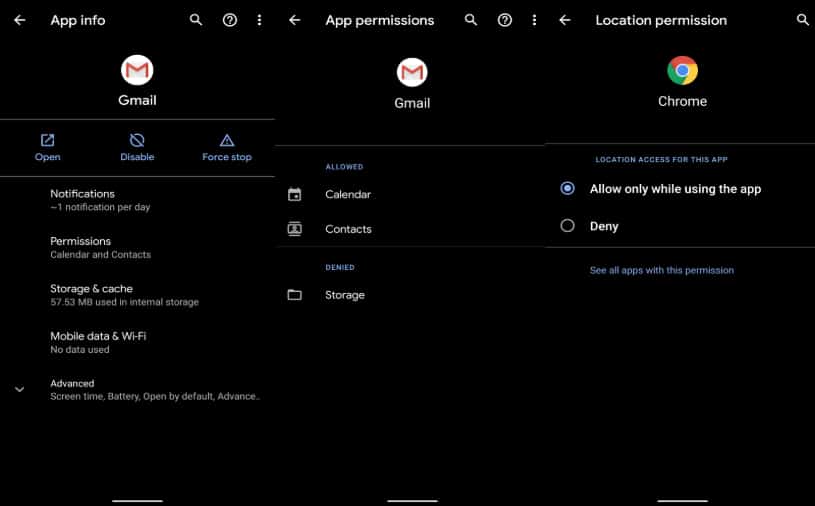 Android Q continues to build upon privacy features that Google rolled out with Android Pie. Now, you'll be able to choose whether or not the apps can access the location while they're running in the background.
There is a new option for "Allow only while the app is in use," to give you far more control over when and which app uses your location data in the background.
Similar options extend to apps that have access to photos, videos, and audio. So you'll receive a prompt when you try to share files through such apps and you can restrict the permission accordingly.
Also, when an app uses your location data, microphone, or camera, you'll see an icon for that in the notification bar. It'll tell you which app is using a particular sensor.
There will also be a new dedicated Privacy Page on the Settings menu. It shows the exact number of apps that are accessing your contacts, SMS, and other sensitive information.
4. Bubbles feature for multitasking
Google has released a major feature called Bubbles in Beta 2 for Android Q. Bubbles is a new method of multitasking and interacting with apps. This Android Q feature lets you minimize any app into a little circle that floats on your screen above all other apps.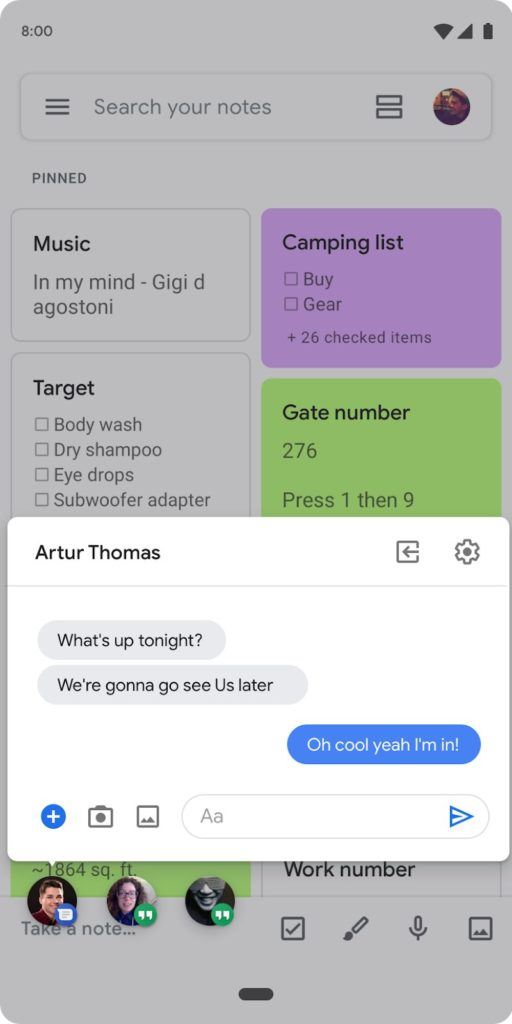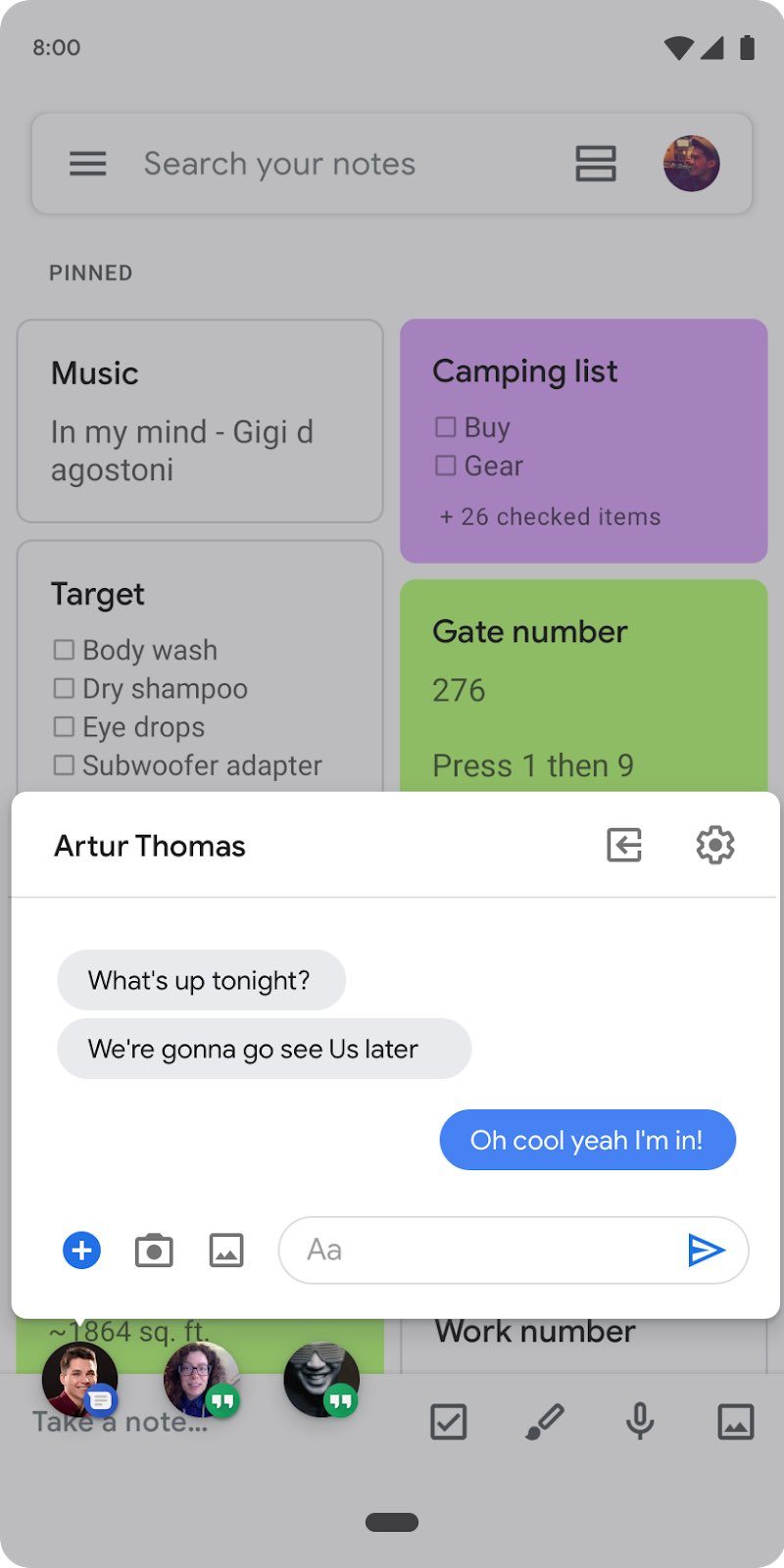 Whenever you tap on a bubble, it will reveal another small UI where you can interact with the app. For instance, reply to texts or browse on multiple windows.
5. Compatibility With Foldables
Android Q includes support for the latest foldable phone form factor. For foldable devices, the Android 10 will preserve the app state as you switch between multiple displays or open up an existing display.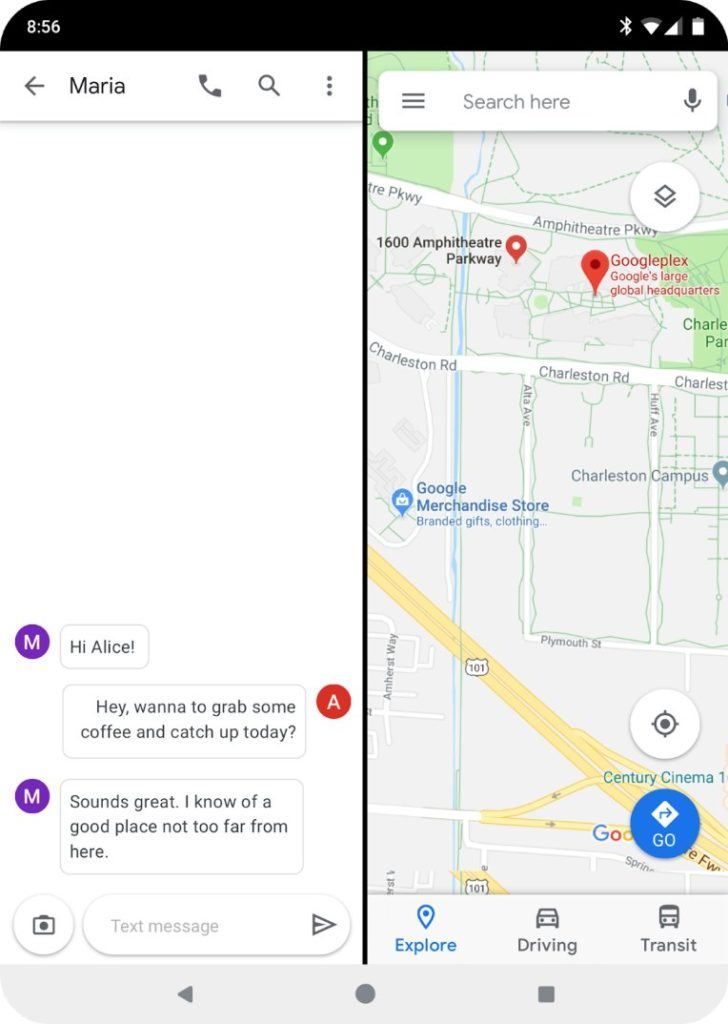 For instance, on Galaxy Fold, Android Q will open Google Maps on the small front display, and on unfolding the device, Google Maps session will be shifted to the bigger display. Similarly on the Mate X, opening the device will move your session to tablet mode. This feature is also known as "screen continuity."
Meanwhile, split-screen has been improved, too. A new feature called "Multi-resume" to work with multiple apps running on the same screen.
6. Foldables Emulator
Adding on to the list of support for upcoming foldable devices, Google has added a new foldable device emulator in Android Q. The foldables emulator will take care of adjustments on the big display when the devices are folded and unfolded.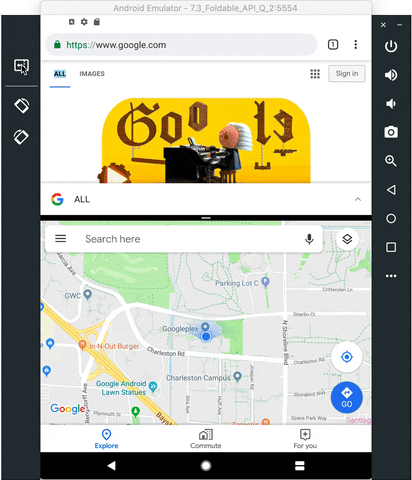 7. Sharing Shortcuts
Sharing files on Android Q gets easier with 'Sharing Shortcuts.' It lets you jump directly into another app to share content. Earlier, the share menu showed every app on your phone and took a while to populate the list. Users had to wait until the icon for their favorite app showed up. And none of this information was saved, so every time you tapped the share button, it started rebuilding the share menu.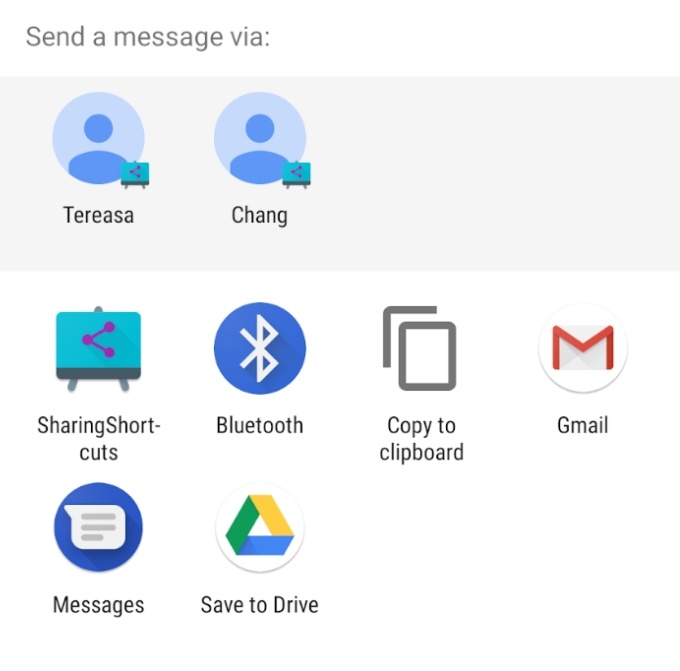 Now, developers can create "Sharing Shortcuts," which basically tries to build the share menu information beforehand instead of building it on the spot so that "the share UI can load instantly when launched." We do not yet know how this will work for older apps or how Google aims to force developers to get used to this new UI.
8. Settings Panels
The Settings Panel API has received changes which will show key system settings directly in the context of an app. These changes are based on the Slices feature which came with Android P.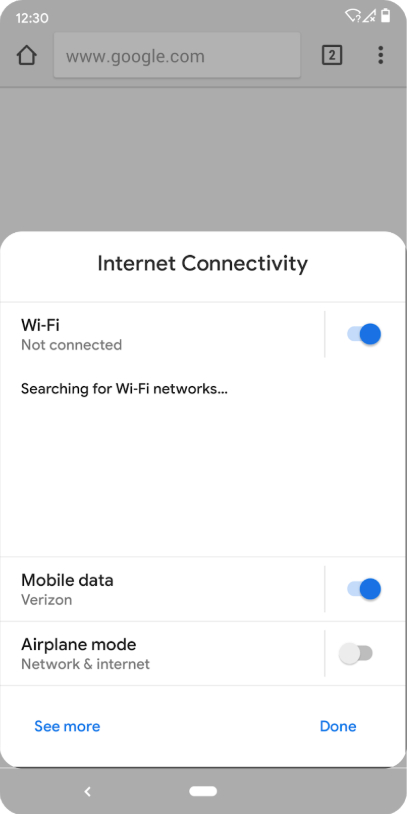 The settings panel now looks like a floating UI which can be opened from an app to show system settings and toggles. Google gave the example of a browser with the ability to display the settings panel with connectivity settings.
9. Dynamic depth format for photos

Google is making it easier for apps to use depth effects by allowing apps to request a JPEG + Dynamic Depth image. This will allow apps to offer different kinds of blur effects, bokeh options, use the data to create 3D images and support AR photography use-cases. Google is also working with device partners to make Dynamic Depth an open format which would be available across devices running Android Q and higher.
9. Desktop Mode
We can also expect Android 10 to get a Desktop Mode which will be on the likes of Samsung Dex and Huawei's Projection Mode. It will provide a PC-like experience, complete with a standard desktop and full-sized apps. There's no denying the fact that smartphones give us convenience, but sometimes we really need a PC to get things done faster.
10. Turn off every sensor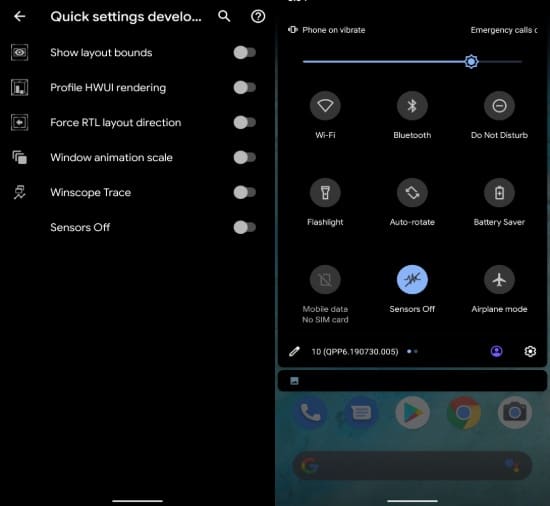 Now, Android Pie has a lockdown mode which can disable the fingerprint sensor, but I guess Android Q is going to have some kind of a super lockdown mode.
It includes a 'Sensors Off' toggle button which puts the device into Airplane mode and disables all the sensors on the phone. I hope it'll also let us disable sensors like Accelerometer and Gyroscope that are not visible to naked eyes.
11. Screen Recorder built-in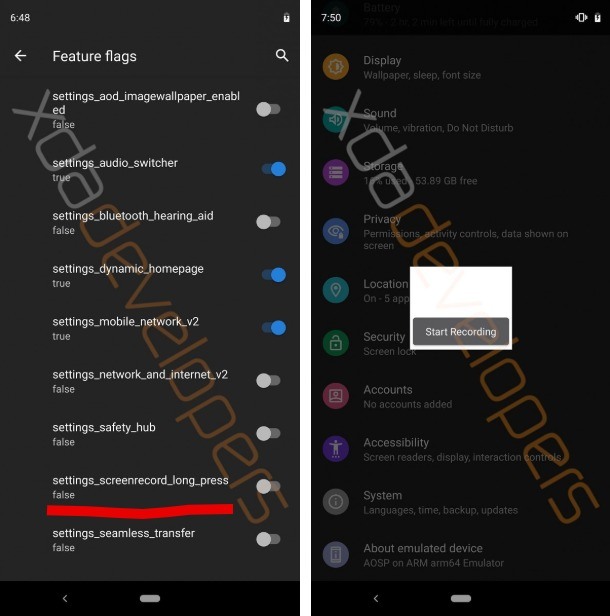 Talking more about Android Q features, we might also see a built-in screen recorder tool just like iOS. In the leaked build, the screen recorder tool which is incomplete can be accessed by long pressing the Screenshot button in the Power menu. This is after a flag called settings_screenrecord_long_press is toggled on.
12. Android Beam removed
Also, one more thing to note is that the Android Beam option that is used to share files between devices is, somehow, now gone. The feature is already crippled, so I don't think it will concern many people even if it's removed.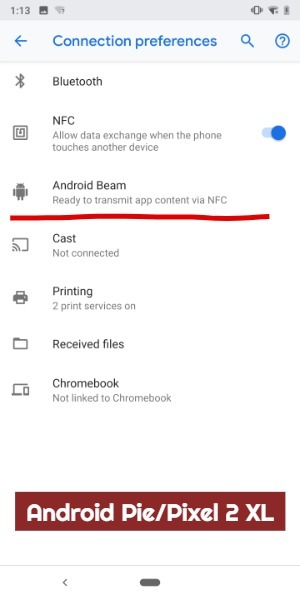 But if what I am assuming is correct, then it could be possible that Google is working on a new file-sharing feature for Android, similar to Apple's AirDrop and Nearby Sharing on Windows 10. And it won't be surprising if we see it on Chromebook's as well.
13. Carrier Lockdown
Now the story is not all good-good, and Android Q might bring some restrictions into your life. If you buy a locked Android Q device from a carrier, they'll have the capability to stop you from using SIM cards of other carriers by creating lists for 'allowed' and 'excluded' carriers.
14. No more stealing passwords
The Android Q 10 build includes new permission called "READ_CLIPBOARD_IN_BACKGROUND". As the name suggests, the new permission will hamper random background apps from accessing the clipboard content. Above all, apps would be asked to get a "signature" from the OEM.
15. Downgrading app updates
Often, you update an app and then immediately regret the action, possibly because of new bugs and glitches. Now, many permission and command lines on the leaked build suggest that Android Q will have the ability to roll back apps to their previous version.
16. New fonts, icon shape, and accent colors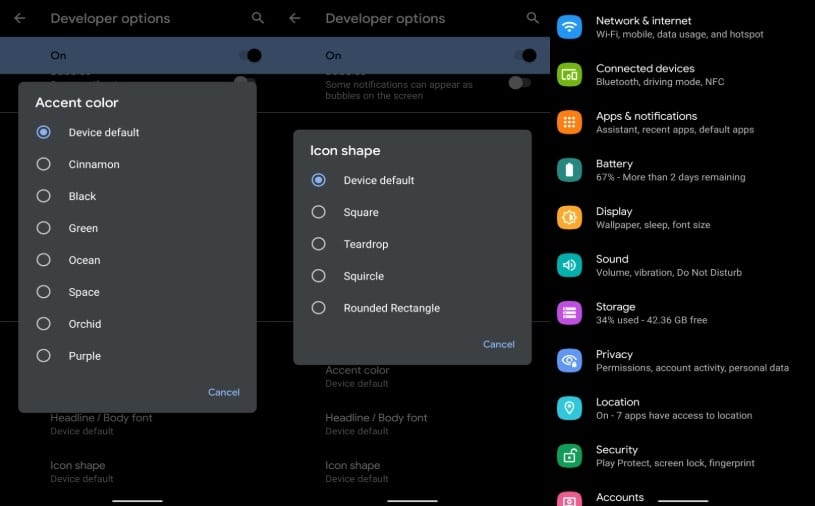 One of the features of Android Pie is the ability to change the background theme. With Android 10, Google is planning to add more customizations.
As of Android 10 Beta 6, there are two new fonts; icon shapes such as Square, Squircle, Teardrop; new accent colors namely Blue (default), Black, Green, Purple, Cinnamon, Ocean, Space, and Orchid.
17. Live Captions
As the name suggests, Live Captions puts subtitles on any audio or video in real-time. The Android 10 feature uses the phone's AI capabilities and does not require a working internet connection.
For people who have installed Android 10 beta on their device, the feature is available in the Accessibility menu.
18. Focus Mode
Adding more to its Digital Wellbeing initiative, Google has added Focus Mode to Android Q. Using Focus Mode, you can turn off distracting apps like social media platforms, messaging apps or any other app you don't want to use for a certain period.
How to get Android 10 features on your device right away?
If history tells us one thing, an Android update could take up a few days to years before reaching on your Android smartphone. Therefore, we have made a list of Android 10 features that you get on your device right away which includes third-party apps and tweaks.