Google Chrome is the most popular browser on the planet, with over 65% market share. But should it stop Google from using cheap tactics to win over the competition? No.
Like most of us, it seems that Google is not able to get over the fact that Microsoft can do well in browsers. So, the company has started throwing annoying pop-ups on the new Chromium-based Microsoft Edge browser.
Google warns installing Chrome Extensions on Edge
First spotted by Windows Latest, Google warns against installing Chrome extensions on the Edge Chromium; instead, it asks users to install them on Chrome since it's more secure.

In Google's own words, "Google recommends switching to Chrome to use extension security." Below the message, there is a hyperlink that directs the user to the Google Chrome download page.
Forbes reports that the message appears because Edge is not integrated with Safe Browsing protections that Google uses to weed out bad extensions; however, that does not equate to installing Chrome extensions on Edge being insecure. Interestingly, the warning doesn't appear on Opera or Kiwi, i.e., other Chromium-based web browsers.
Edge cannot protect users against "malware"
Chrome web store is not the only place where Google tries to market its browser. Windows Latest discovered that Google is trying to persuade users to shift to Chrome on nearly all Google services when opened via Microsoft Edge.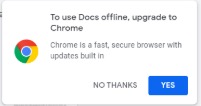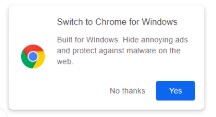 One is the usual pop-up where it says, "Chrome is a fast, secure browser with updates built-in." The warning from Google that piqued me most is "switch to Google Chrome…hide annoying ads and protect against malware on the web".
In other words, the new Microsoft Edge browser is essentially in-capable to protect users against malware, according to Google. Google does not provide more information on the kind of malware that Edge won't be able to handle.
We concur on the "hide annoying ads section" since Microsoft couldn't remove the annoying ads from Google. Again, other Chromium-based browsers didn't have such warnings. The baseless warnings will undoubtedly fuel the prejudice against web browsers from Microsoft.
This is not the first time; Google Chrome is known for getting its hands dirty. A Mozilla Firefox programmer once accused Google of forcing YouTube to work five times slower on other browsers.